Throttle body flanges
S95Sedan on 07-05-2010
Some more pieces for the Roller Barrels arrived yesterday. One flange for the D15Z6 head and one for the throttle bodies itself. Just the runners themselves left to complete the intake manifold which probably be done in about a week or two.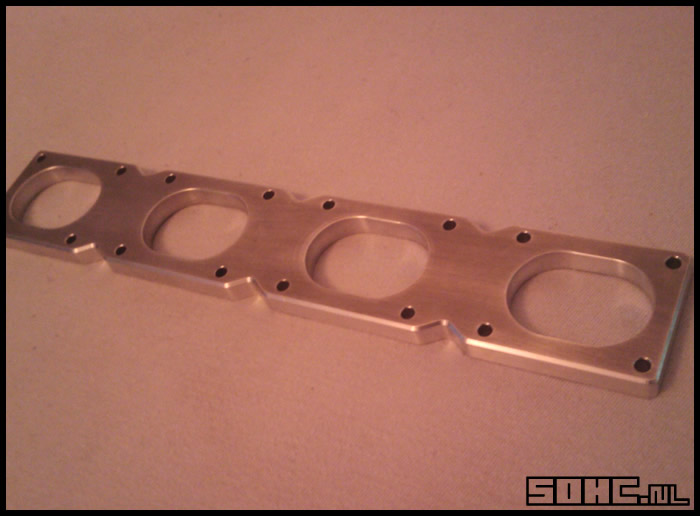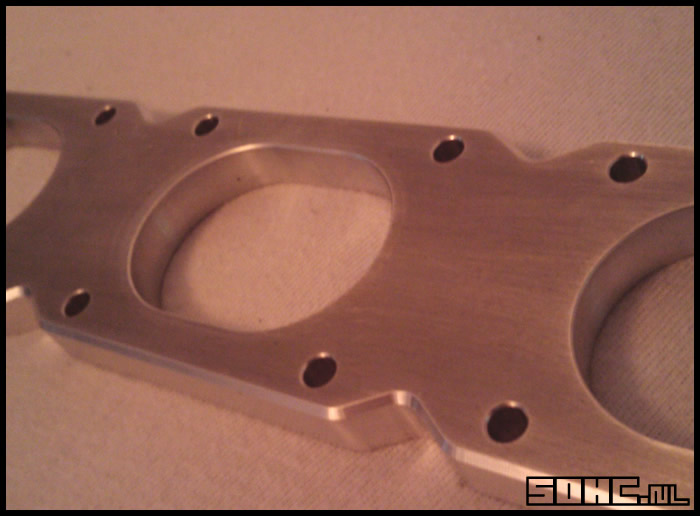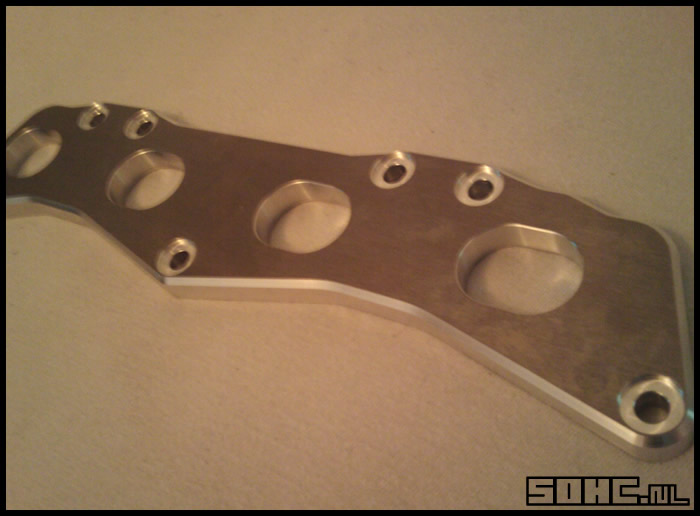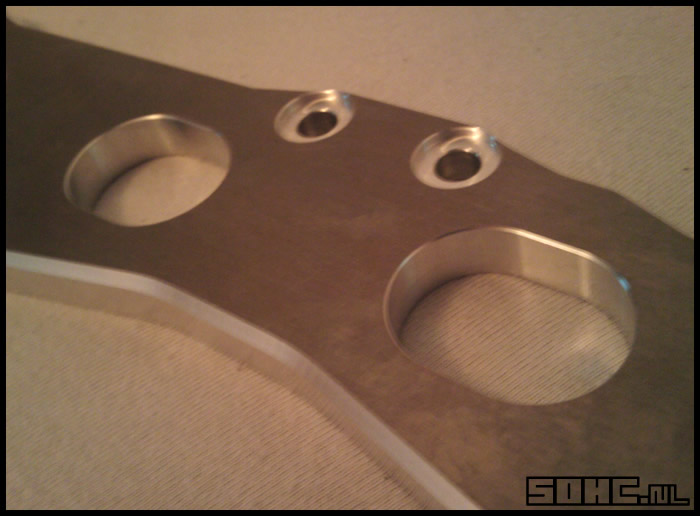 Bisimoto V2 - Installed
S95Sedan on 18-03-2010
Had some time left today so installed my new header. Mainly installed to take measurements etc. so the header can be mated to the midpipe.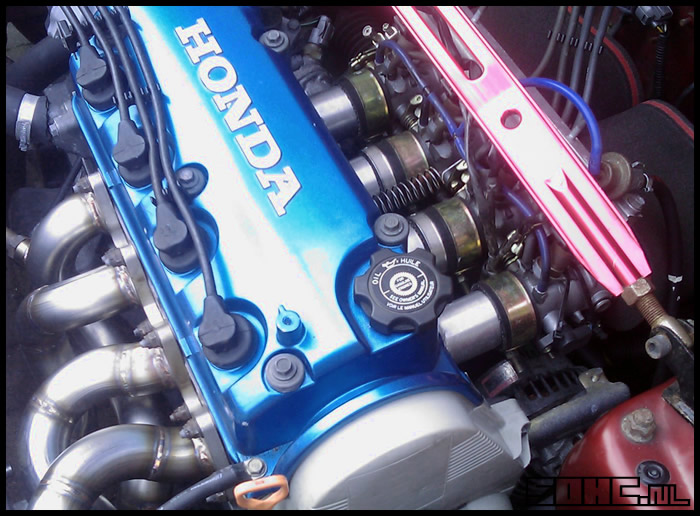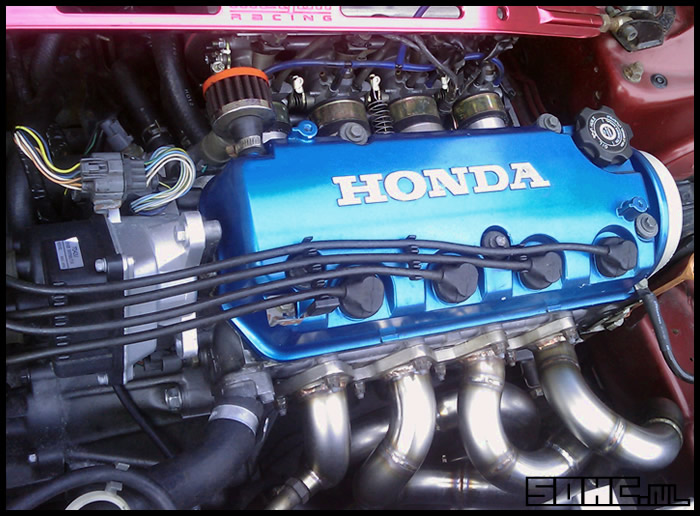 Bisimoto V2 Header - Arrival
S95Sedan on 16-03-2010
So today, after a long wait, it finally arrived! Brand new Bisimoto V2 - D-Series Header. Looks stunning and pretty decent made.

Just the flanges for it to sort out and it will be ready to be put on.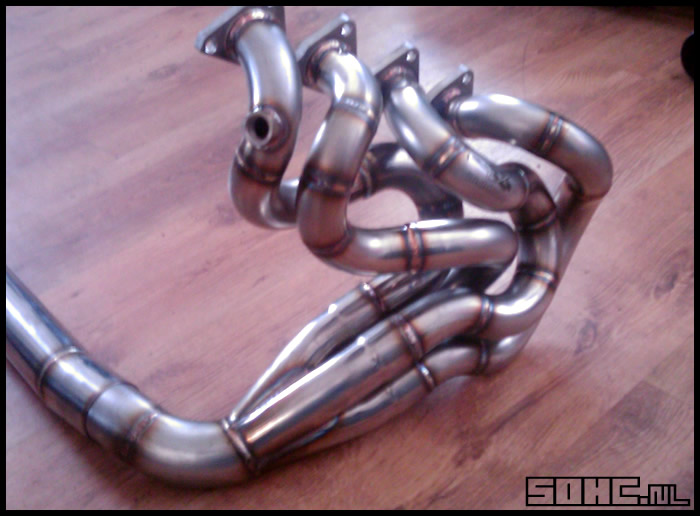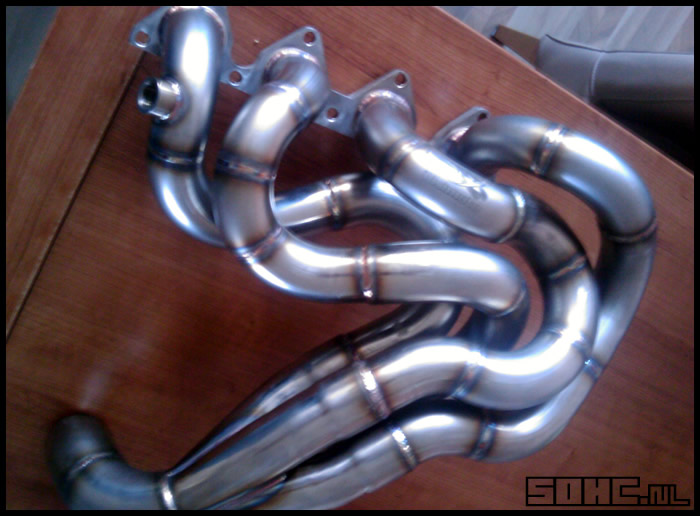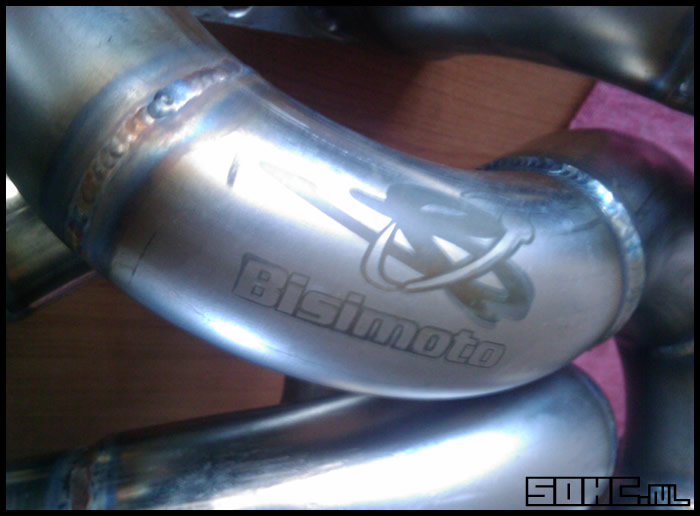 Roller Barrel Airflow Figures - CFD
S95Sedan on 14-03-2010
Spent some time figuring out how to output airflow in solidworks, result below.

Low, Medium and High throttle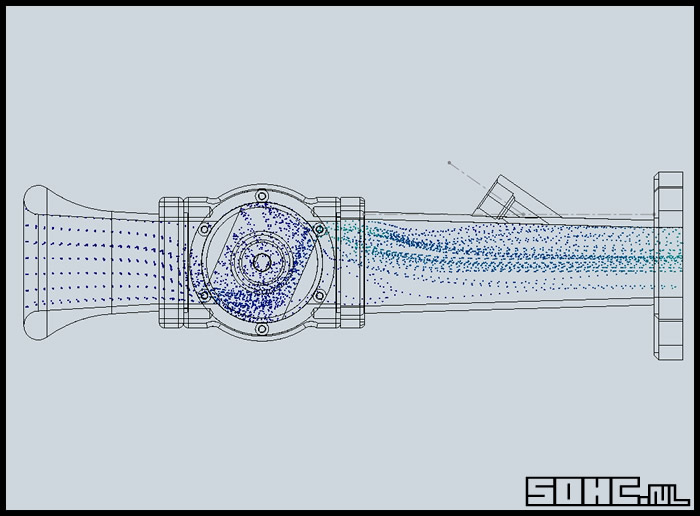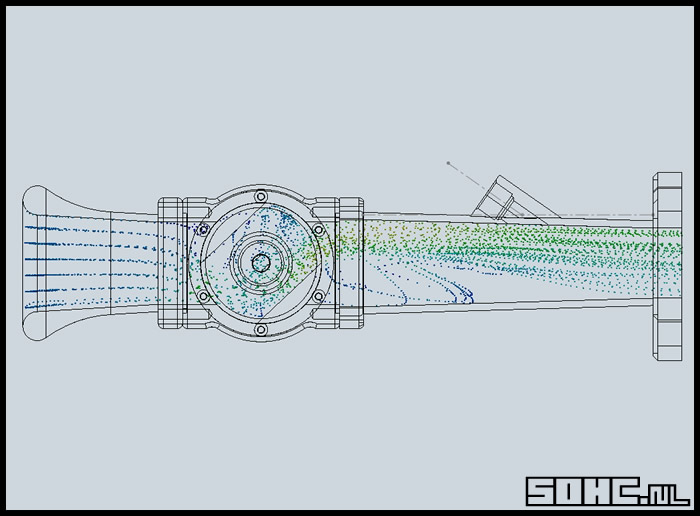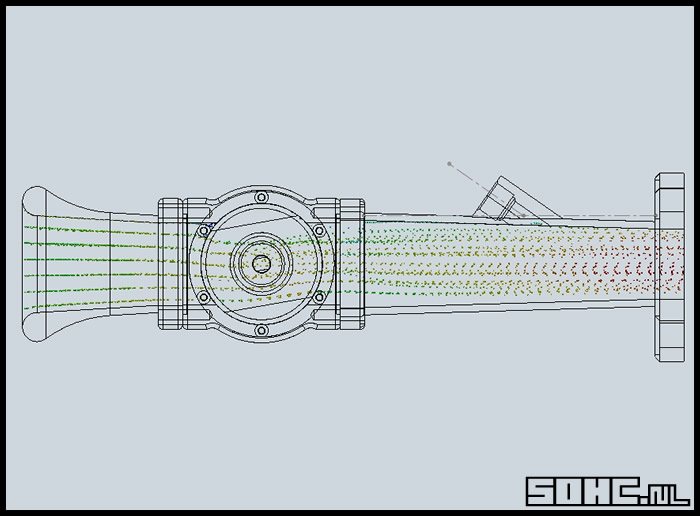 Custom Throttle Bodies [Roller Barrels] Part.5
S95Sedan on 13-03-2010
Om nom nom,

Just got done with some more parts concerning the roller barrels, nearly complete as far as the designing goes. I do expect to run in some problems later though but nothing i guess what cant be fixed later on.

Things completed since last post
- Injector ports added to the runners
- Velocity stacks done (design not final yet)
- Fully modelled the RDX injectors inside solidworks
- Fuelrail added (not sure if im going to make one or order a K-series one)

Pictures: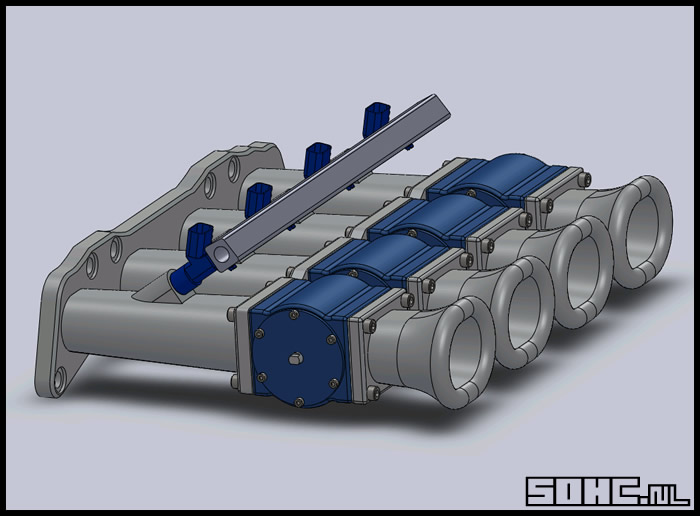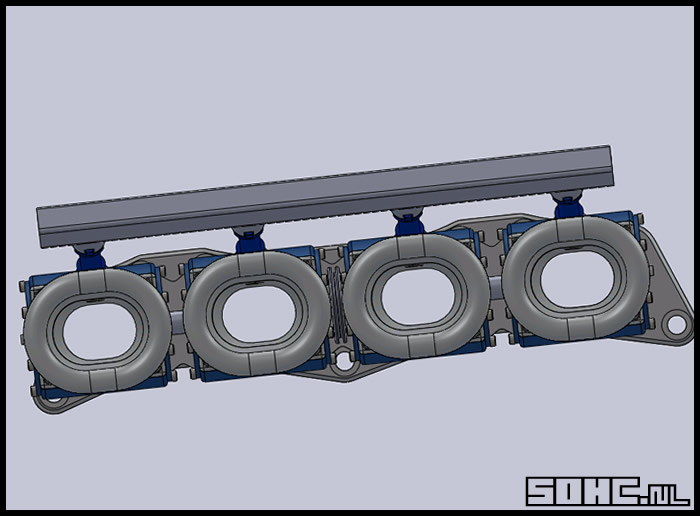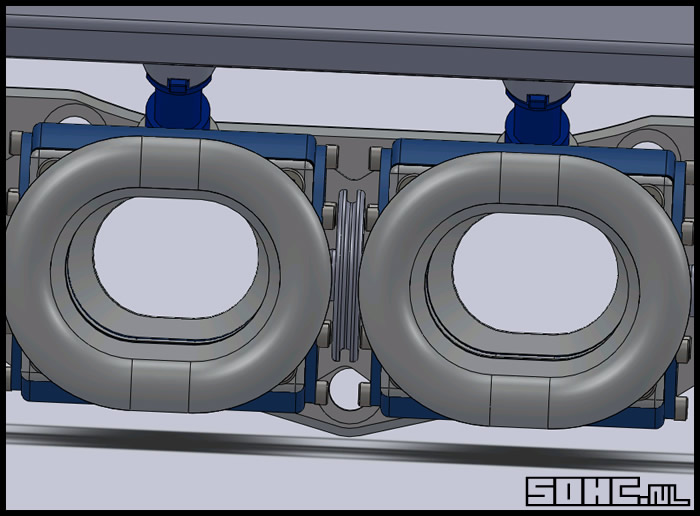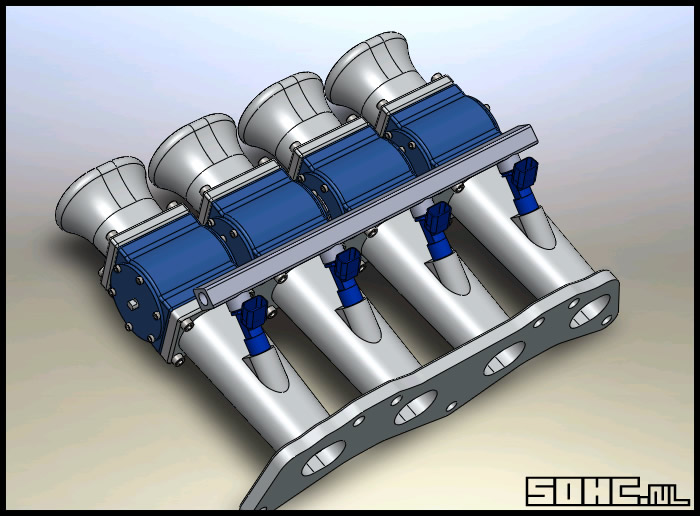 Custom Throttle Bodies [Roller Barrels] Part.4
S95Sedan on 02-03-2010
Some more stuff i've been working on concerning the roller barrels. Intake manifold is nearly finished now. (just need to add the injector holes. Below some pictures of the completed runners.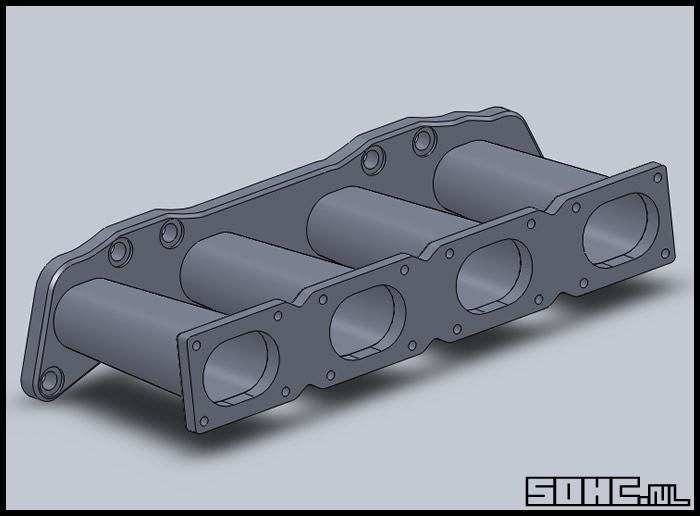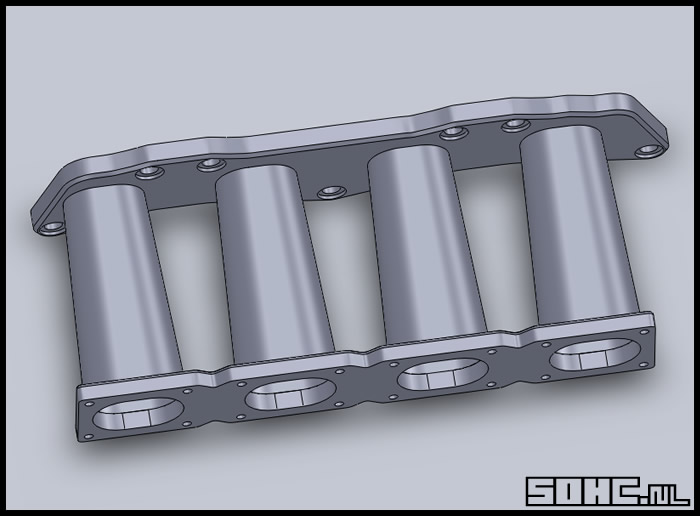 Also did a fast mockup of the roller barrels and the linkage, looking pretty good so far, pictures below.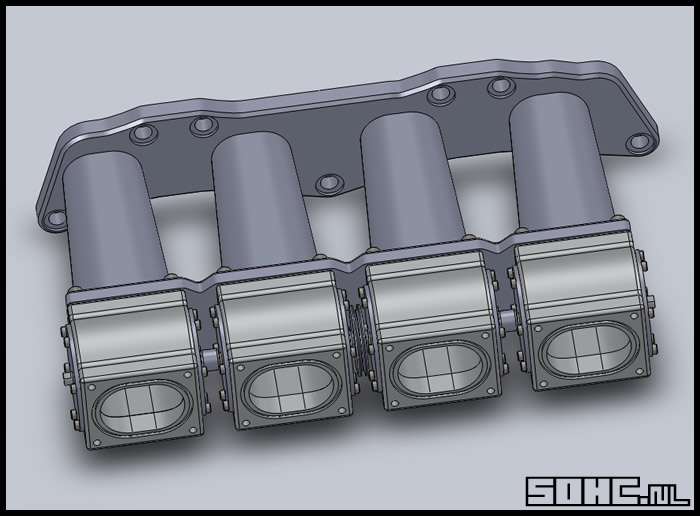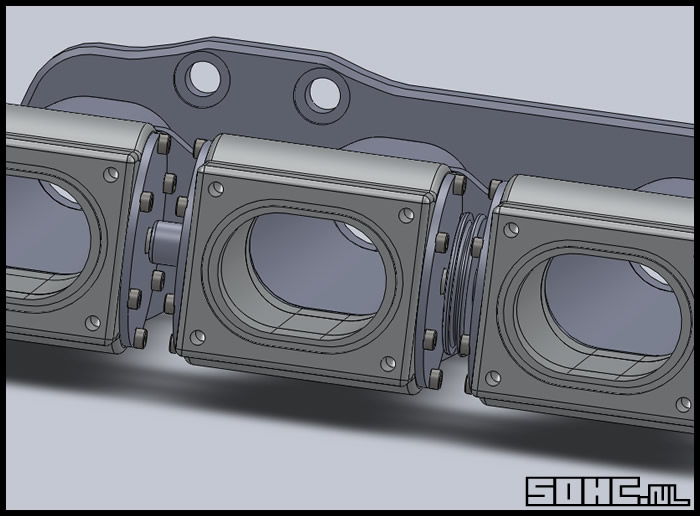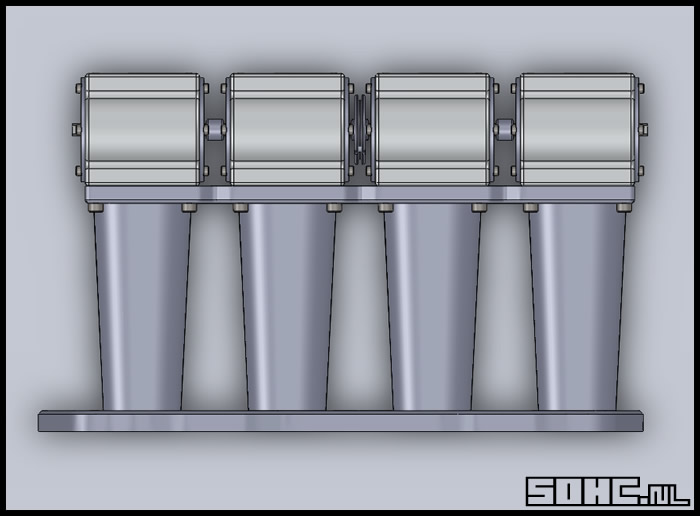 Custom Throttle Bodies [Roller Barrels] Part.3
S95Sedan on 10-02-2010
Thanks to someone in on the eCtune community (thanks cyanide for the measurements) i did a short mockup of the full roller barrels aswell as completed the flange for the d-series head, result below.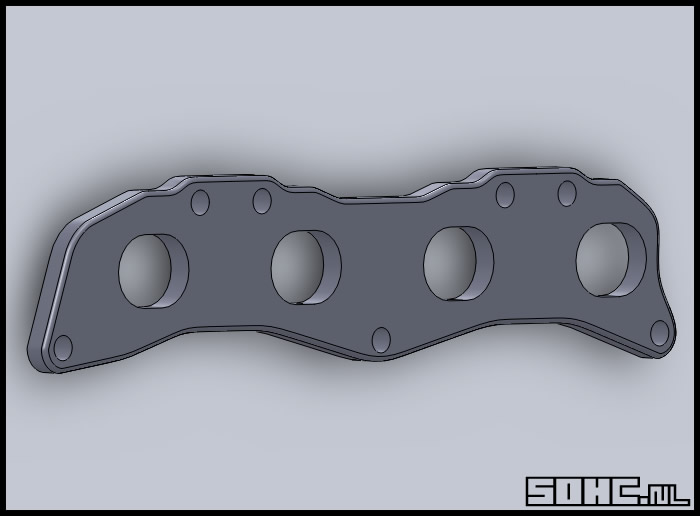 Full piece, probably still gonna be alot of work but you get the idea what it should look like completed.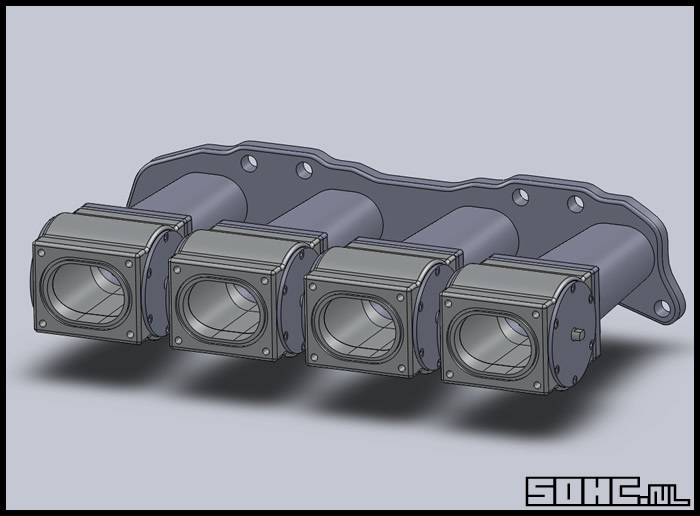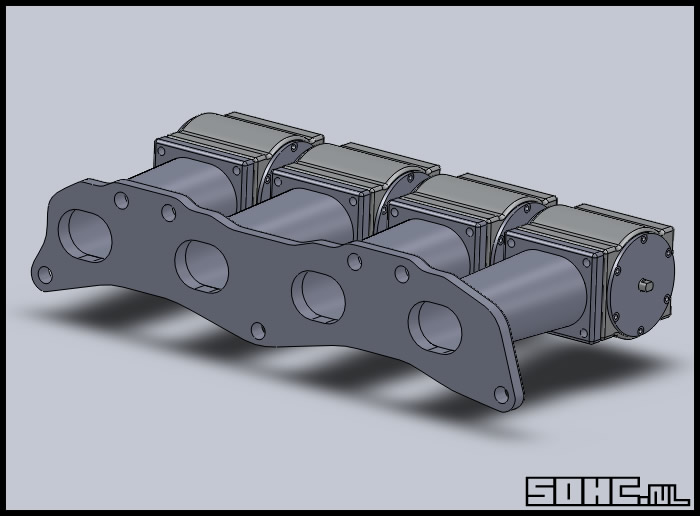 Dynoday - Verhoeven Tuning
S95Sedan on 07-02-2010
Saturday the 6th of februari finally got the chance to get the car on the dyno. Great day seen alot of other nice cars and alot of hp aswell, though my result i wan't too happy with.... Just a measily 124hp and 130nm of torque....

High probability somthing isn't working properly on the engine since after the car was driven back off the dyno a tiny bit of oil showed under where it had been standing. Though i am happy that these problems show now instead of after replacing any other parts in the D15Z6 Head.

High chance i'm going to pull the head any time soon just to check if theres anything messed up in there.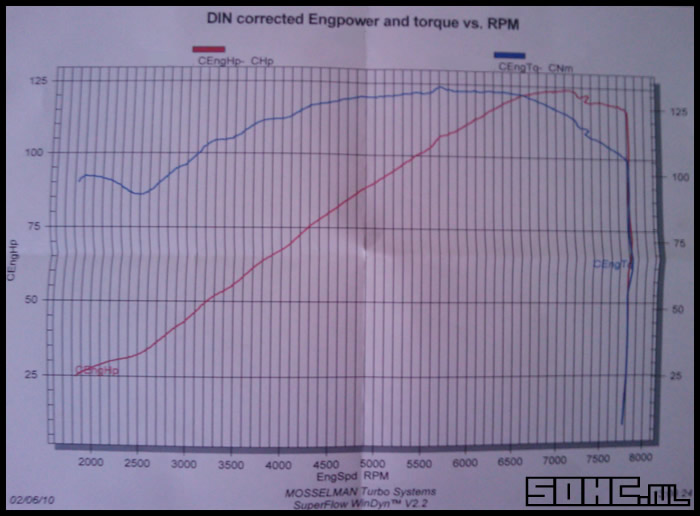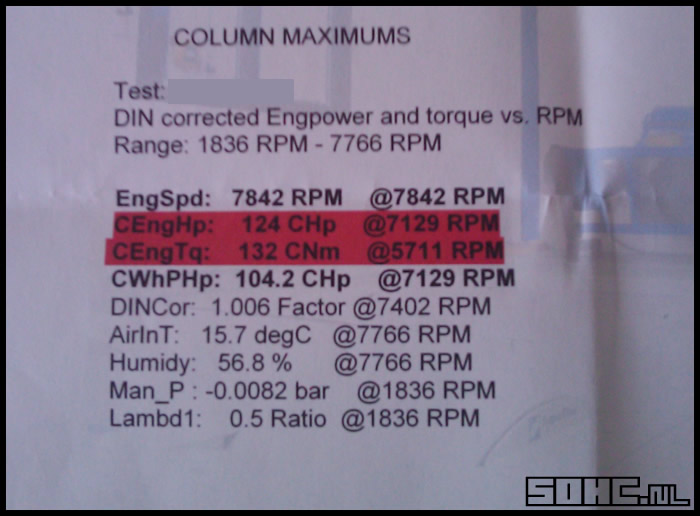 Custom Throttle Bodies [Roller Barrels] Part.2
S95Sedan on 02-02-2010
Today i recieved a nice little package in the mail, was already expecting it and DAMN! it looks stunning. Took quite a bit of back and forth e-mailing to get everything sorted but i'm very happy with the results.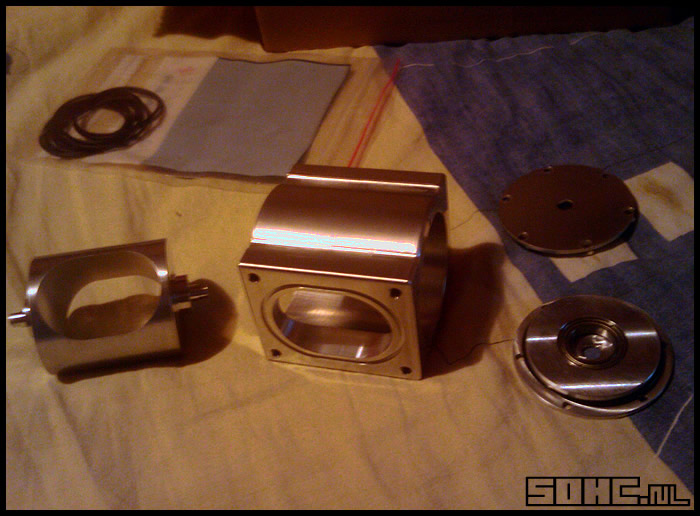 Overall it looks and feels very very sturdy and robust, and this is just the prototype. It did however need a couple of minor adjustments but nothing which proved to be a problem really.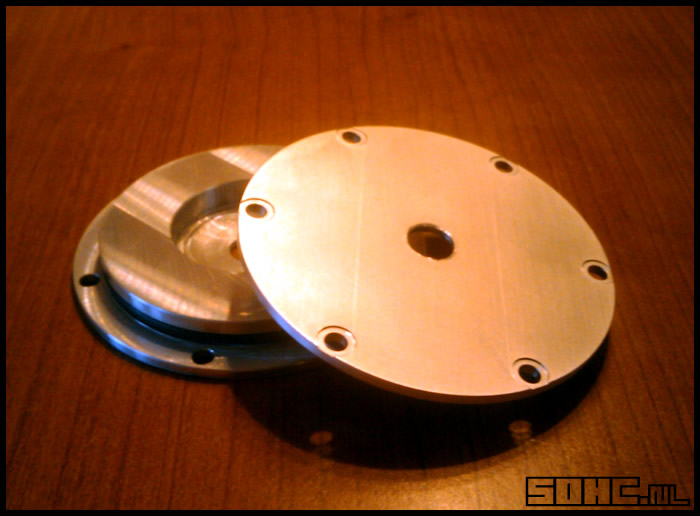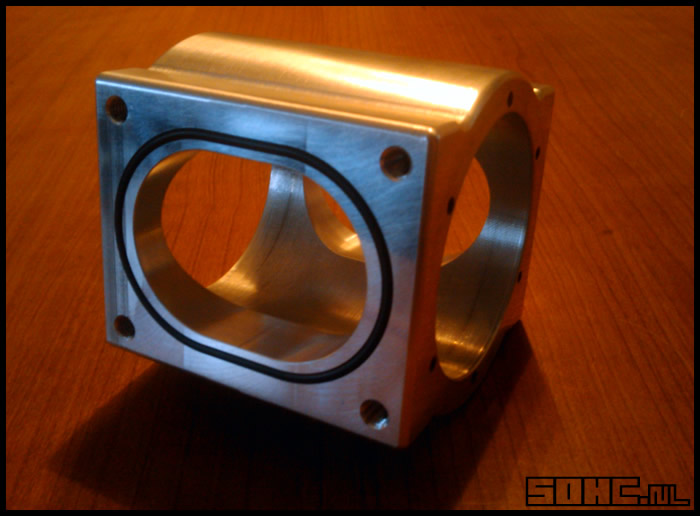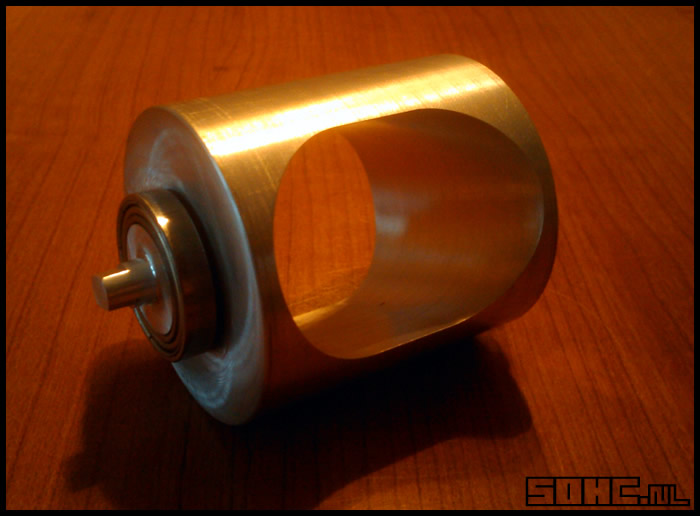 Can't wait to get the rest of them done and start on the manifold to get this puppy up and running!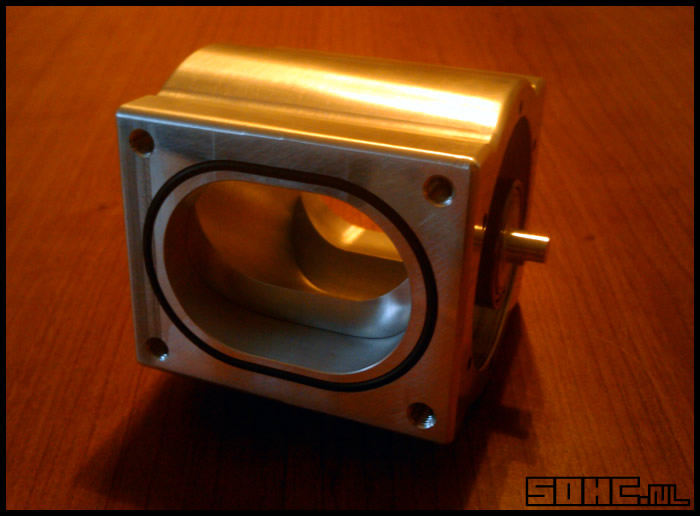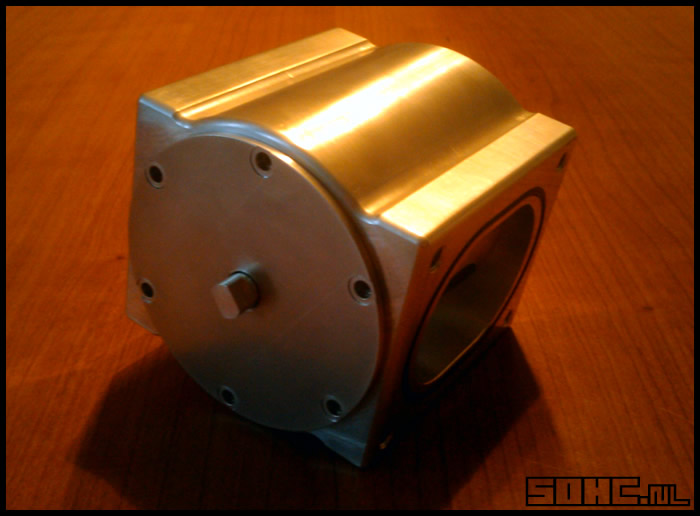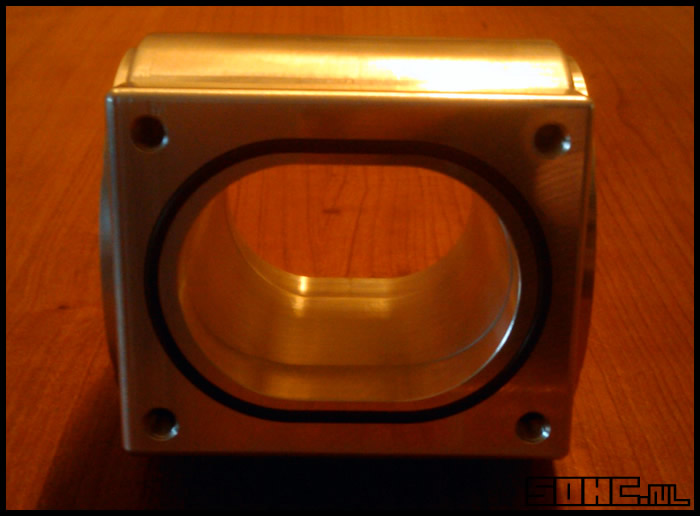 Custom Throttle Bodies [Roller Barrels]
S95Sedan on 09-01-2010
Thats right, Roller Barrel throttle bodies, some new stuff i have been working on for the last couple of weeks. Should get rid of the tuning and sync problems i have had with the GSXR-1000 ITBS.

They aren't used that much but i do have seen and heard some nice things about them so decided to make a one off custom set. Below added a concept photo of how the set currently is in development. They dont work with a plenum inside but instead the whole centerpiece rotates giving less obstruction in the airflow and therefor in theory more hp.

The spacing and taper of the runners should give a slight compression which will aid a bit aswell.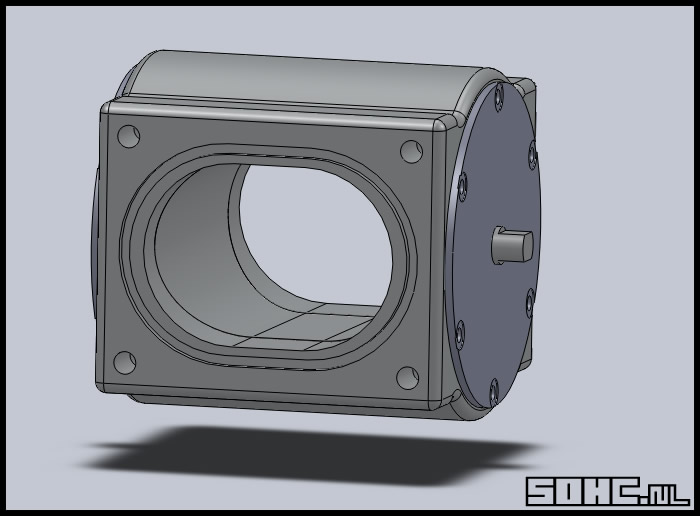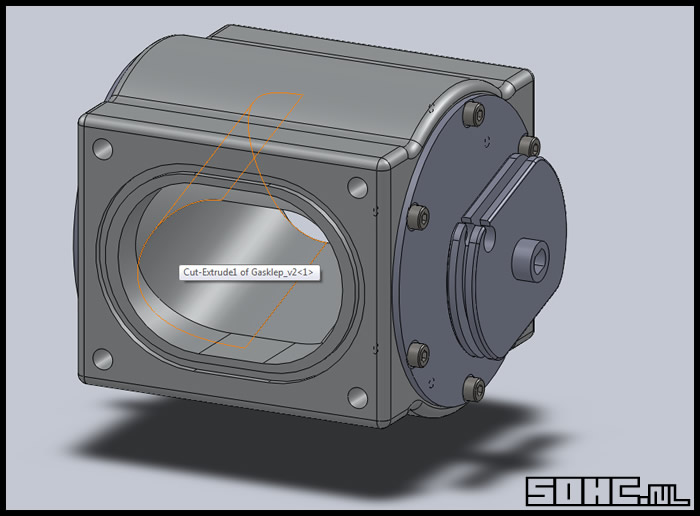 What im working towards, still missing the D-Series flange, injector holes and attachments and vacuum ports. In short, still alot of stuff to do!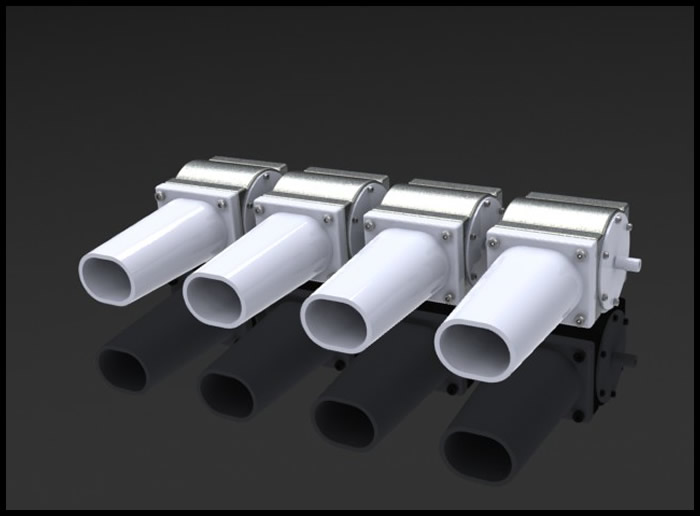 Bisimoto V2 Header - Finally!!@
S95Sedan on 25-12-2009
Oh yeah, so i finally got around to get the funding and order my custom, handmade Bisimoto V2 D-Series Header.

Came out in around August/September already wanted it back then, now just a couple more weeks of waiting till it finally gets here! 2nd header in europe, 1st in holland :rolleyes:
Cooling Upgrade
S95Sedan on 09-12-2009
Since engines do need cooling from time to time and my old radiotor decided to fail on me i found myself getting a new fullsize one with a set of 11" Slimline fans.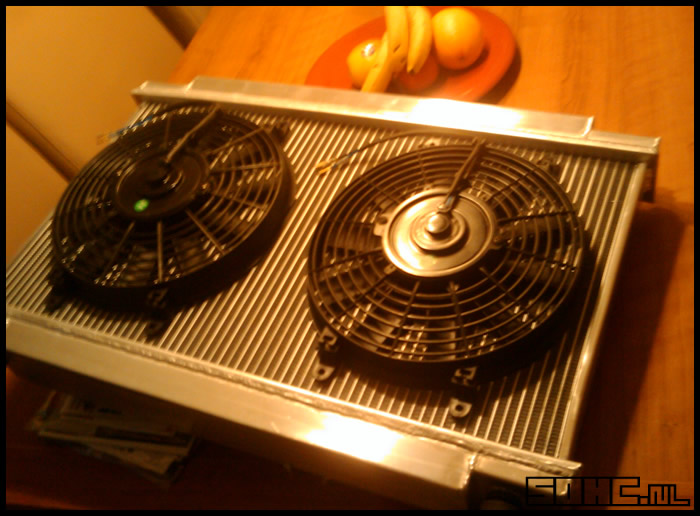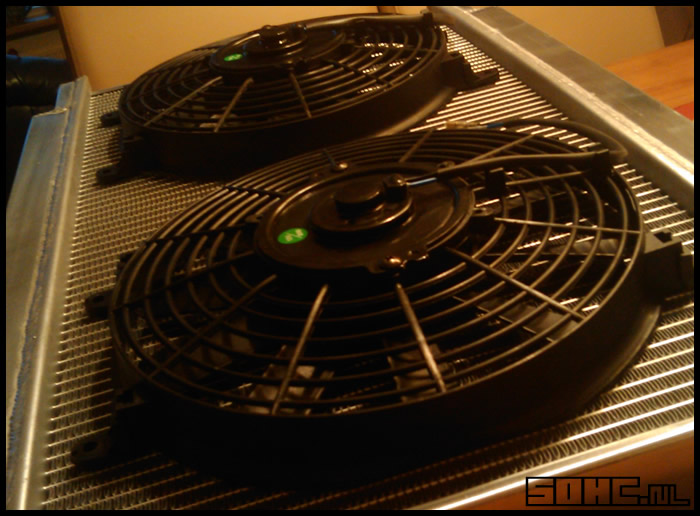 Radiator installed in the car, still have to fabricate some sort of cooling plate for it for a bit better cooling and nicer looks but this will do for now.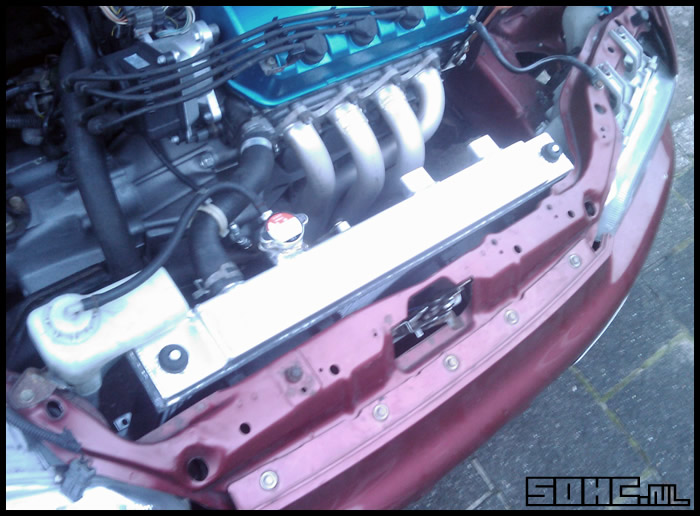 Individual Throttle Bodies [GSXR-1000]
S95Sedan on 21-10-2009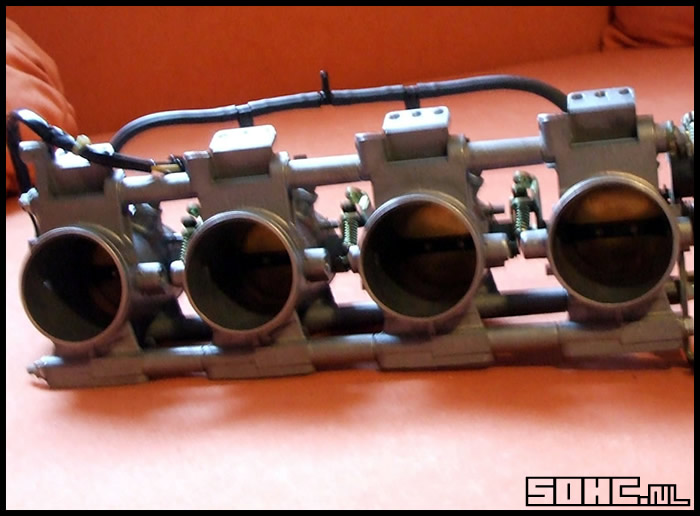 Where to start... Basically started out about a year ago when i grabbed a set of GSXR-1000 throttle bodies from ebay.com for about $60. Quite a bargain if you ask me.

Already been doing alot of reading before about them, how they work and the technical aspects behind them. And because i like to do stuff noone else had done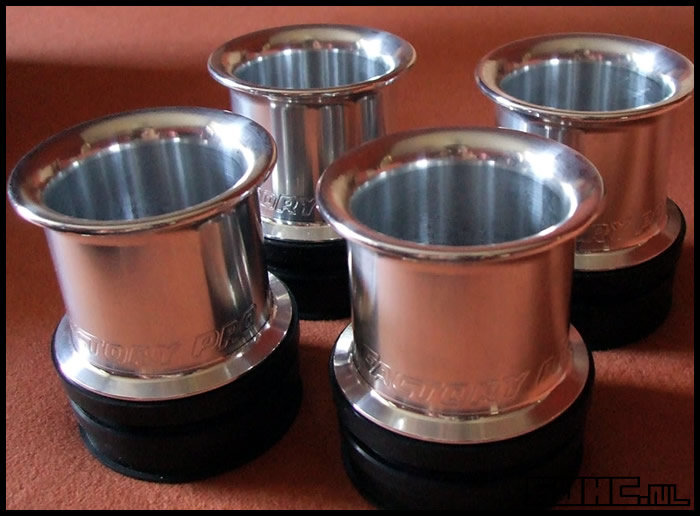 (at least here in holland) i decided to build my own set.

One of they things i was trying to aim for is/was a as clean set as possible with not too much of crap hanging around on those things. Runners were quite a challenge aswell since i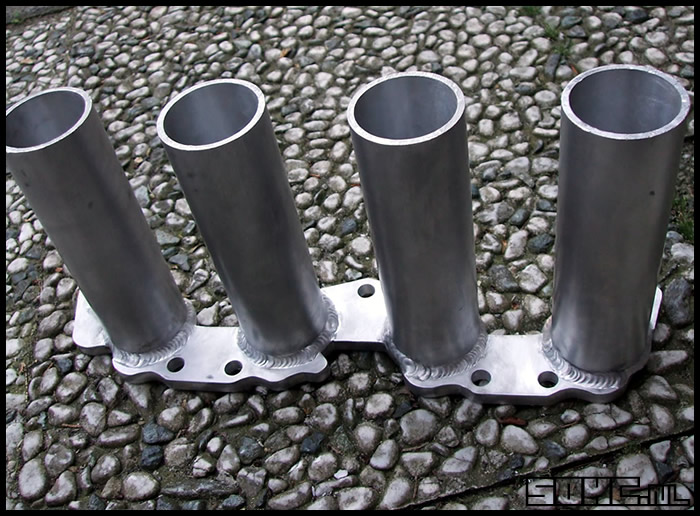 wanted to have those as straight as possible on the D-Series flange but since you can space out the GSXR throttle bodies individually this really wasn't an issue. In terms of velocity stacks i chose for a OEM Suzuki replacement from Factory Pro.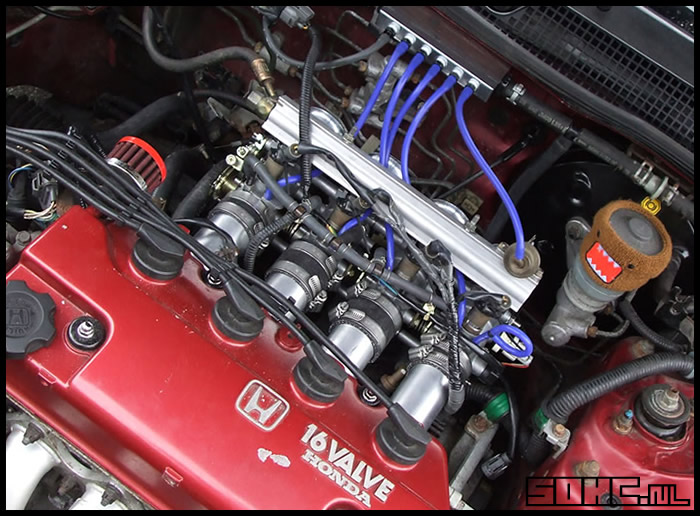 Yeah they are quite expensive though i don't like things not done properly.

Set was finished at about September 2008 though since i have to use my car almost daily putting them on was quite the challenge. Combined with all the tuning and adjustments they stayed on the shelf till about August 2009. Since i wanted some more power and build something nice up i also swapped in another engine, D-Series again. (D15Z6 to be exact) Apart from the D16Z6 Camshaft and D16Z6 ignition nothing changed. Also did some more reading about them and had the runners shortened a bit to suid this setup better. (Total lenght is, as of today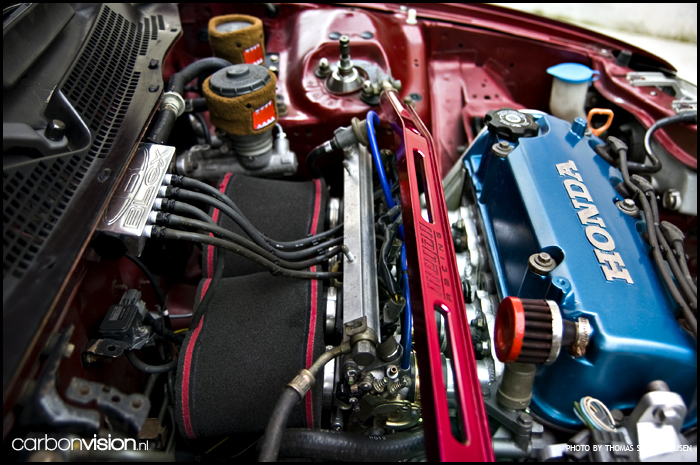 235mm) Don't know the exact lenght before but because of more research and a setup from someone else this looked like the way to go for mine.

As of today i really like driving them and when done right i would definately recommend them. (Even in -10C they work perfectly when warmed up) Though i don't recommend running them without a filter.

In the mean time i also got around to make a movie of them (idle, couple of pulls) which can be downloaded: here

Aswell as some circuit footage i shot the 12th of October on 'zandvoort' and can be downloaded: here

For those who use eCtune i also added my calibration file for reference: here
D15Z6 Engine Swap
S95Sedan on 12-05-2009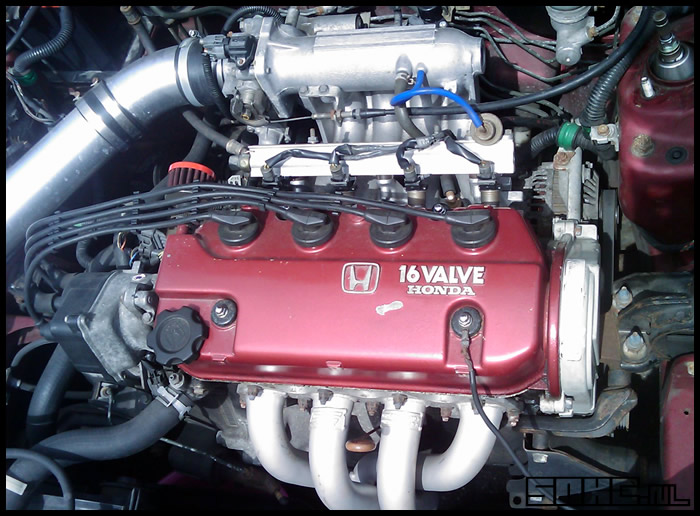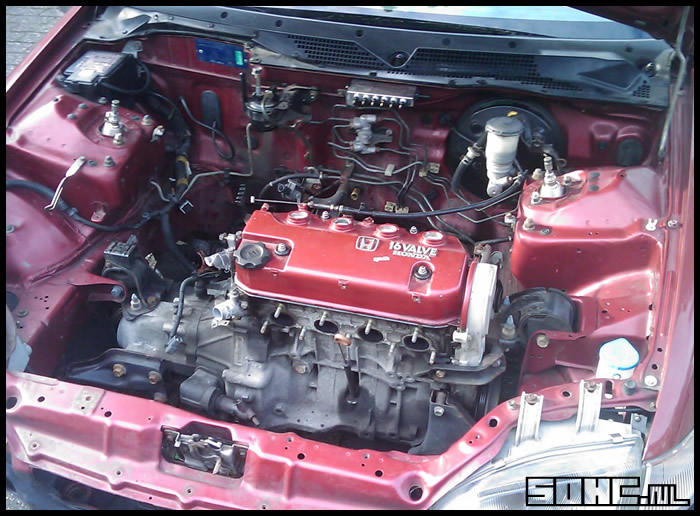 After a couple of months of rebuilding my D15Z6 it was finally time to replace the old D15B7 engine. Already removed almost everything from the engine before taking it to the shop for the swap. Old engine in its former glory and D15B7 Engine as it was before taking everything to the shop.





New engine being prepared, Individual Throttle Bodies and Distributor already installed. Really helped to have a stationwagon available for transport. Whole engine wrapped up and ready to be swapped.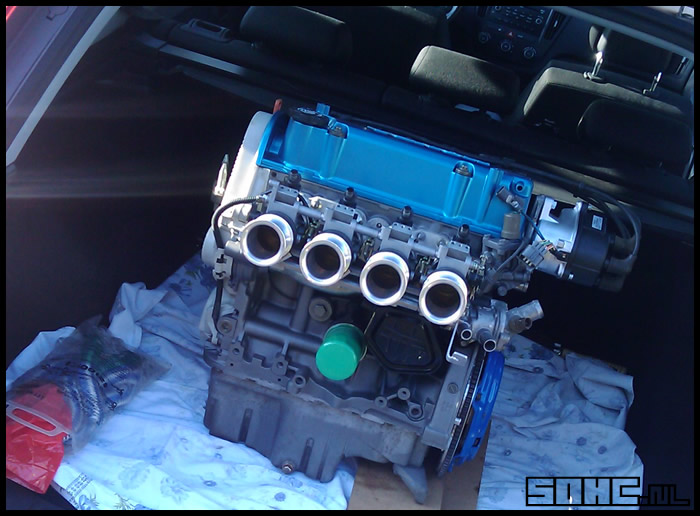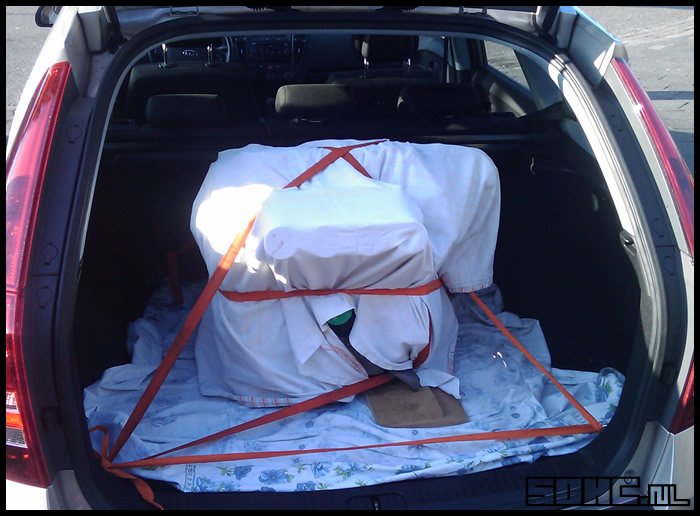 Swap itself didn't take up too much time, about 1 - 1hour and 30minutes total to remove the old engine and switch in the new one. Mostly because everything was already remove from the engine itself. Car on the bridge being prepared and the engine being removed.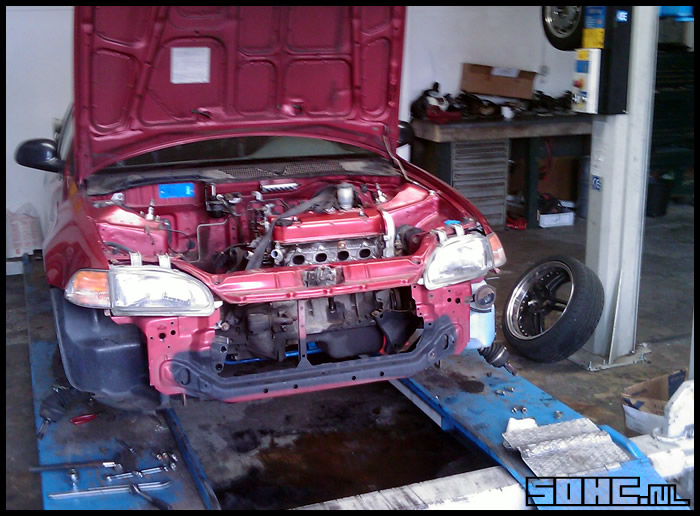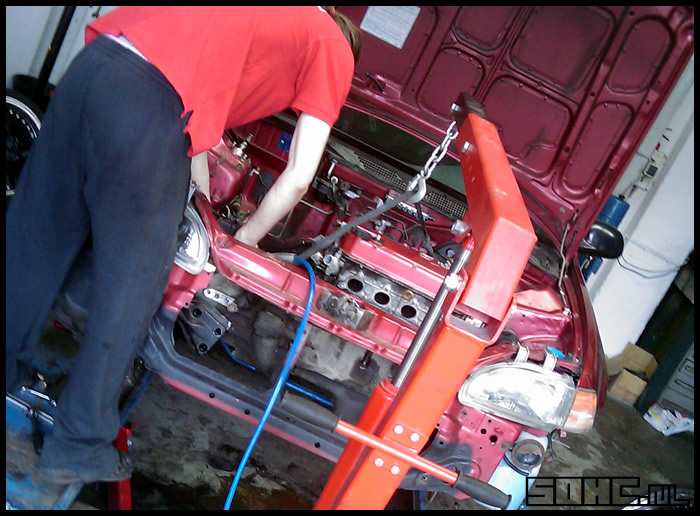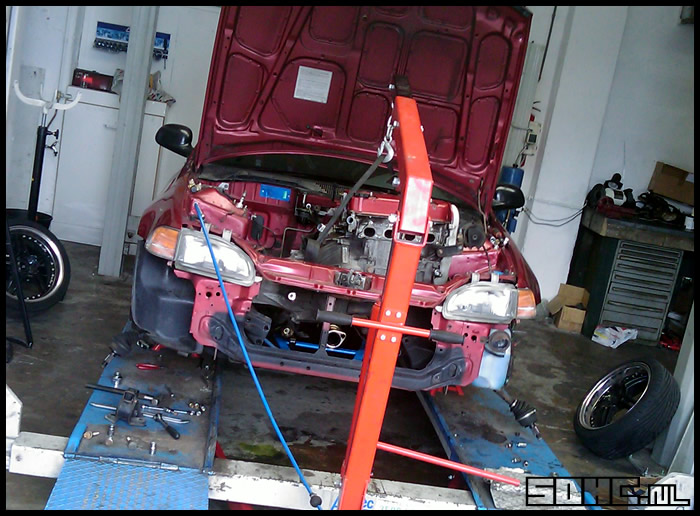 Some time later, after a bit of fiddeling with the engine mounts the new engine is in. (It isn't really that hard to move though given how small the D-Series engine itself is) And a nice show of the D15Z6 with the GSXR-1000 Throttle Bodies installed.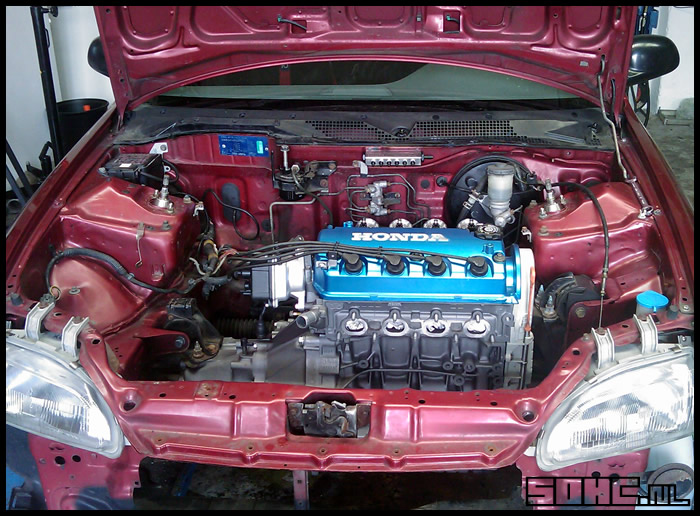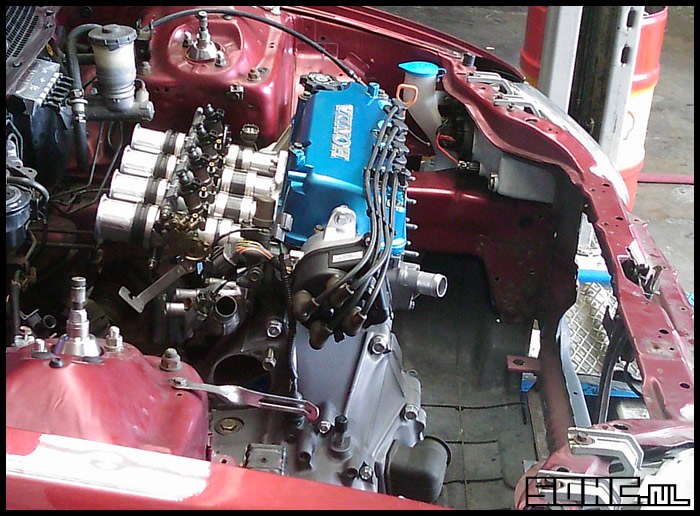 D15Z6 Rebuild
S95Sedan on 10-04-2009
In about oktober 2009 i finally completed my D15Z6, Mini-e swap. Below a small sum-up of the build and pictures and all.

All started around 4-5months earlier when i installed my gsxr-1000 throttle bodies on my old D15B7 engine. Engine was basically too low power, combined with the found of a bargain VTEC-E 1998 engine quickly led to me swapping out the old D15B7 one for this.

Engine still being at the place i picked it up, no oil sweating or other things worth noticing. Also decided to lift the valvecover while i was at it en everything looked fine in there aswell.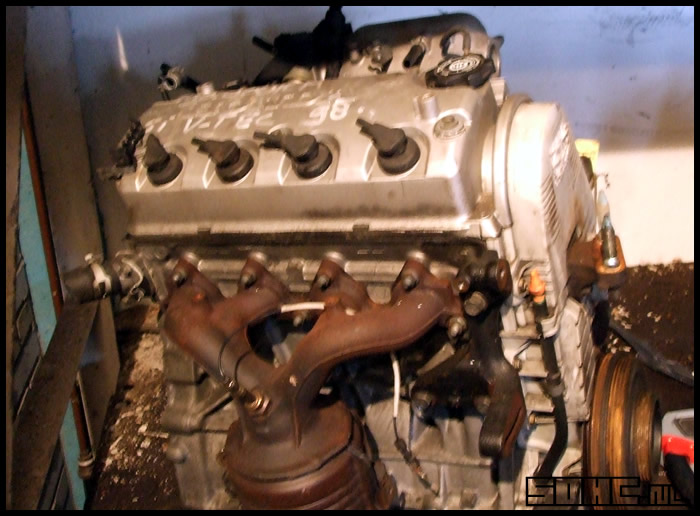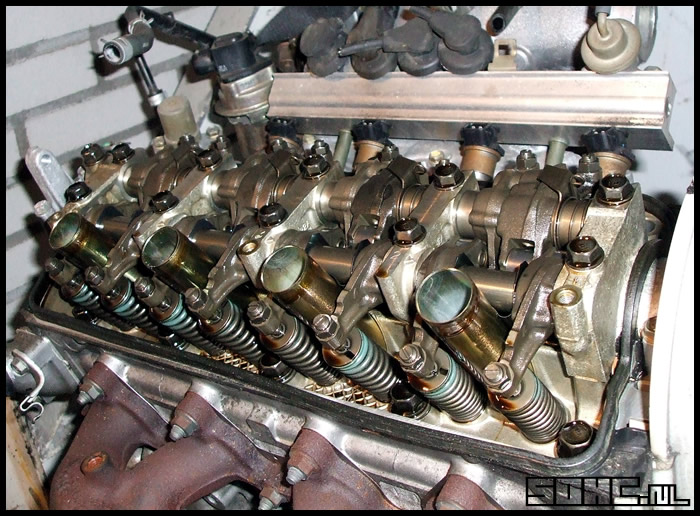 The day after picked up the engine with a friend and drove it back home to its temporary building spot in the shed. Placed it on the engine stand aswell to begin building.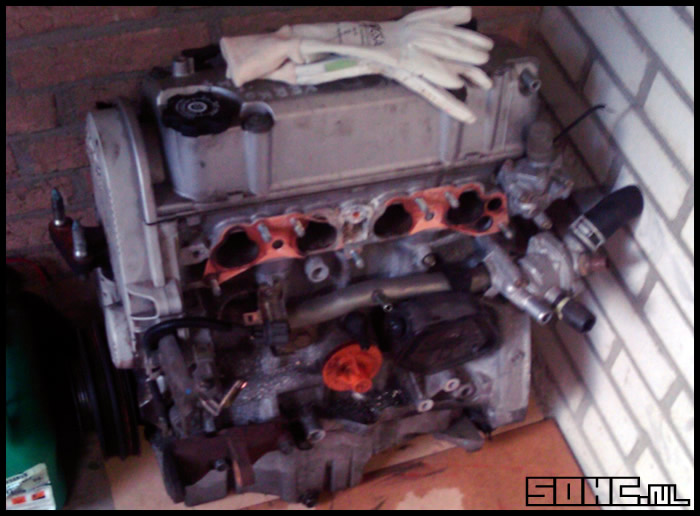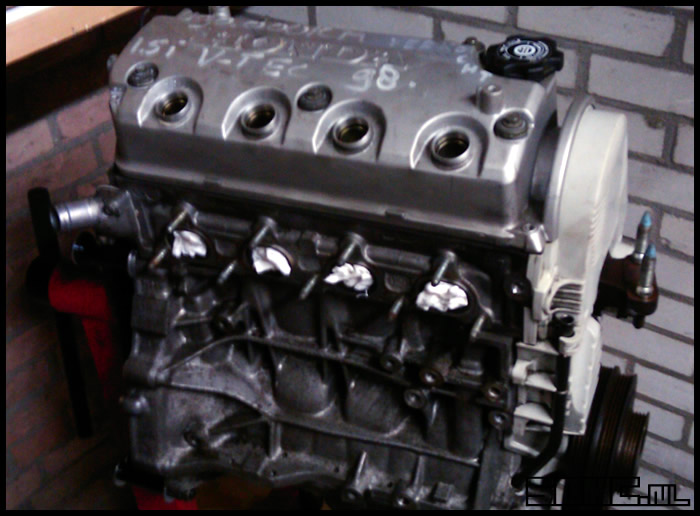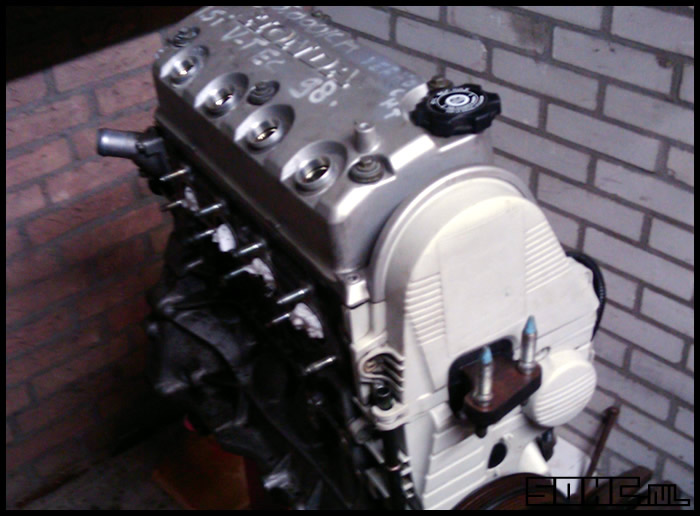 Next step was taking off and replacing the old economic camshaft and lost motion assembly with the new one from a D16Z6, making it a normal VTEC engine.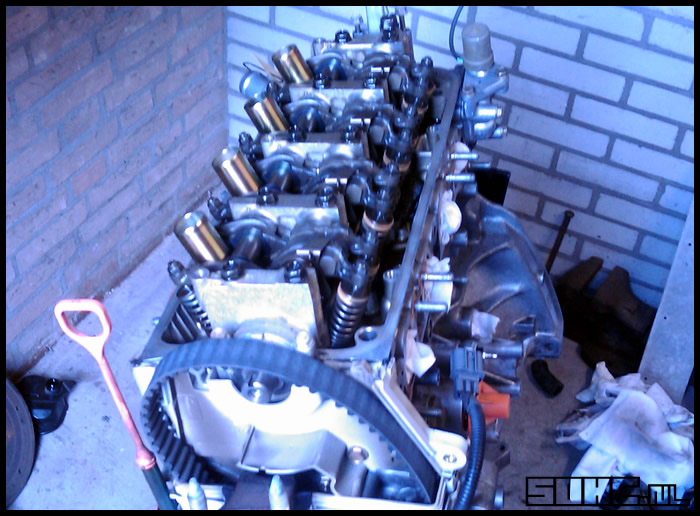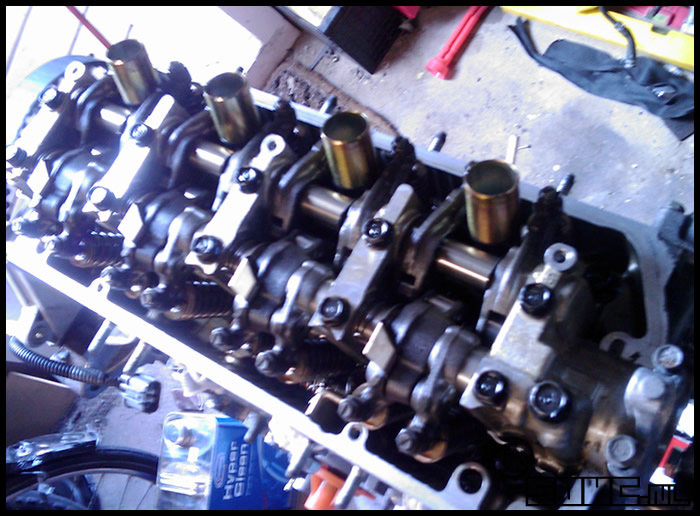 When that all was done started to remove all the casting flaws and dirt from the outside of the engine block. Everything internally is left untouched since the engine supposedly has had only 93.000Km on it. Left picture shows the side which is just cleaned with degreaser and sanded slightly, right pictures show the nearly done side.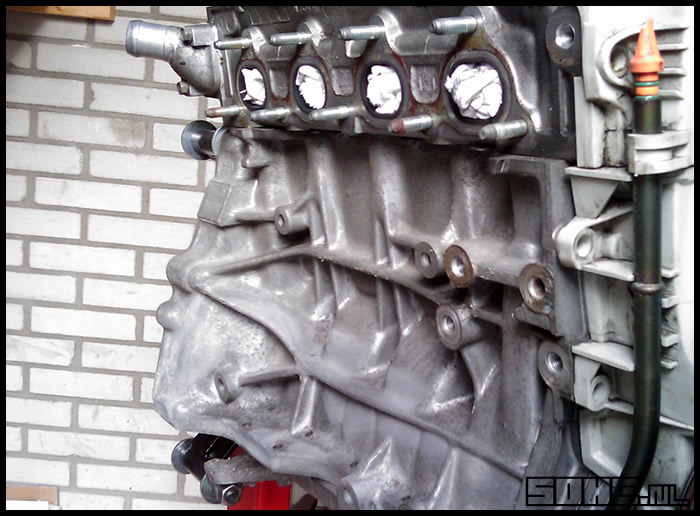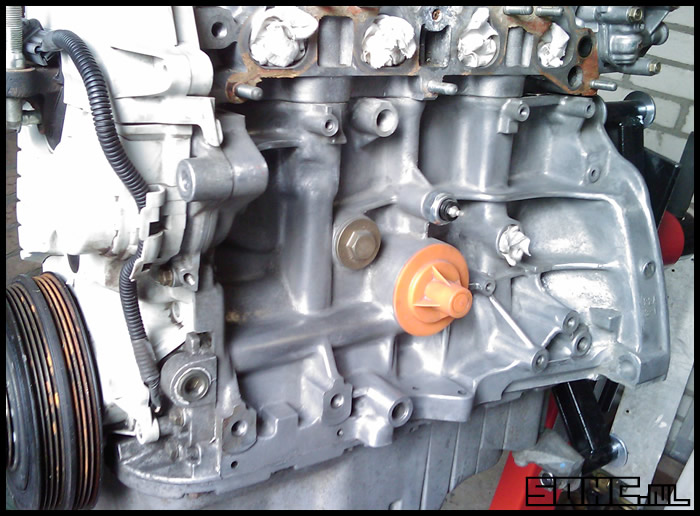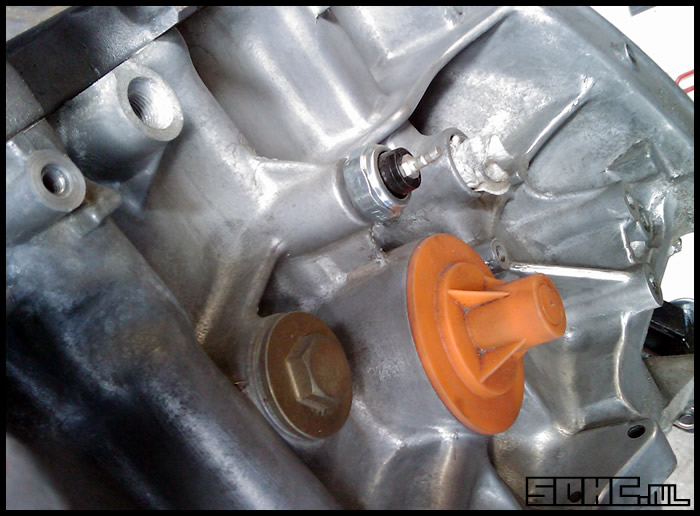 Paint bought to spray the engine block high temp resistant (middle), primer for the valve cover (left) and color for the valvecover (right).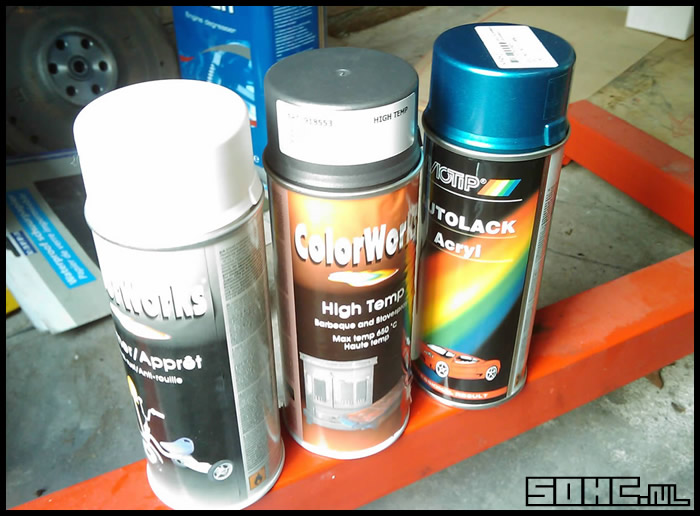 Engine block being painted, valvecover in primer and then finally in color aswell.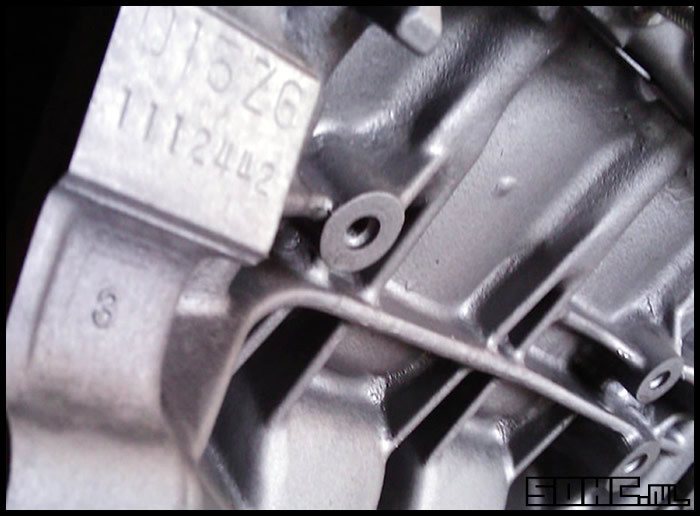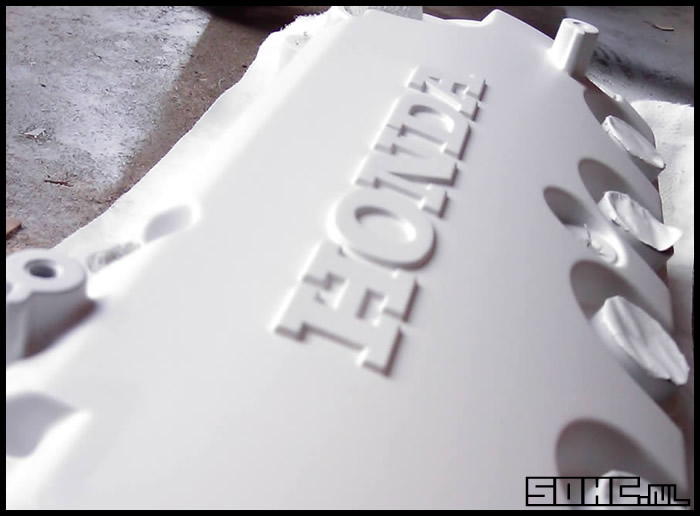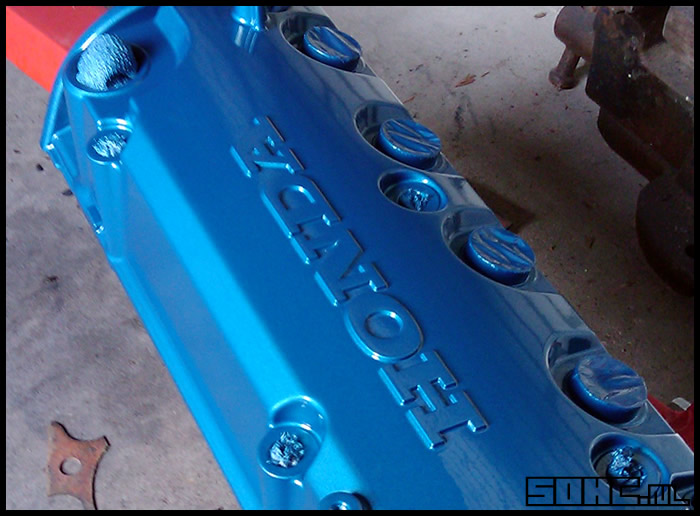 Couple more pictures of the valvecover.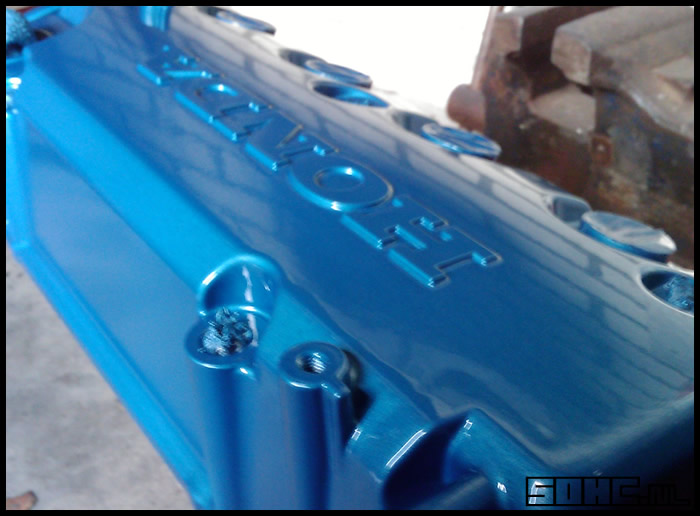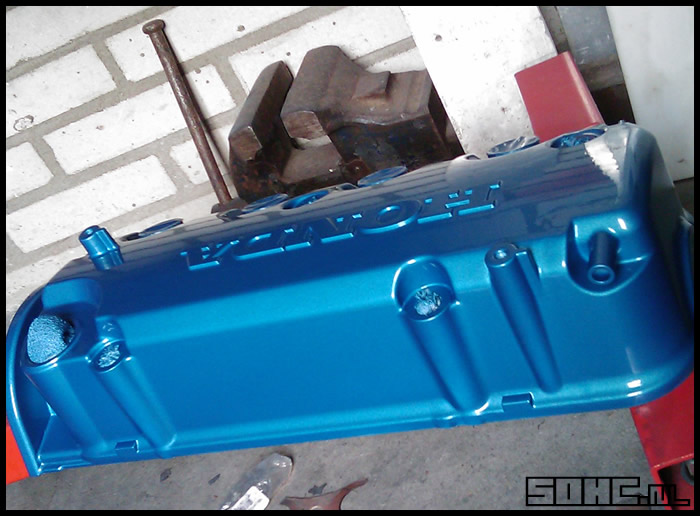 Eventually started putting everything back together again leading to the following. Crank pulley still being off because of getting the wrong timing belt which had to be replaced again. Also couldn't resist to testfit my set of ITB's on there and have a quick peek of how it would look.